Standby Generators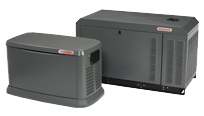 You can now have full power during hydro outages. Honeywell Standby Generators are powered by natural gas or propane and kick in automatically within seconds of a power failure, protecting your entire home.
The generator is installed outside your home and looks much like an air conditioning unit. Professional tradesmen licensed in gas fitting and electrical are necessary for installation. After that, you have worry free protection for your home with minimal maintenance requirements.
STURDY, ALL-WEATHER ENCLOSURE
An aluminum enclosure with RhinoCoat™ finish gives your generator corrosion-resistant protection. Honeywell designs the generator to withstand winds up to 150 mph. They're made for tough climates and cold winters
QUIET OPERATION
Foam panels reduce operating noise levels. Honeywell's patented WhisperCheck™ self-testing mode is even quieter than normal operation.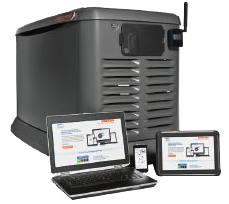 MOBILE LINK™ CELLULAR MONITORING
When you are away on vacation, you can check your generator status using a smartphone, tablet or laptop computer. You can set up over 40 different email notifications, including maintenance reminders.
PROTECT YOUR INVESTMENT
In our climate, an extended power outage can spell disaster for your home. Without power in the winter, your furnace will not operate. If your home temperature drops too much, you'll be dealing with frozen pipes. Your home may also rely on a sump pump to keep your basement dry. A standby generator will keep your sump pump operating during a power failure.
In the summer, the generator will keep your air conditioner running as well. Controlling the climate in your house is good for your pets, plants, flooring and furniture. A standy generator will also protect all the food you are storing in your refrigerator and freezer.
If you are running a home business, power failures can be expensive in lost time and damage to computer equipment. These risks are all eliminated with a standby generator.
Why Bentley Heating And Air Conditioning?
A standby generator is a gas appliance, just like your furnace or water heater. We dispatch the same licensed tradesmen you've relied on for your home comfort needs. We are locally owned and operated and we are here 365 days of the year for emergency service. We'll make sure that we have the correct specifications and product for your unique needs. We can even check up on your generator, when we service your furnace and air conditioner. Call us for a no-cost assessment of your requirements and find out why more home owners are investing in standby generators.